U.S. retail sales, housing data, more earnings in focus
Tesla stock is a buy ahead of its 3-for-1 split next week
Target shares set to struggle amid weak Q2 profit, sales
Stocks on Wall Street rallied on Friday to notch their fourth winning week in a row, as investors cheered signs that may be peaking, raising hopes the will be less aggressive on .
For the week, the blue-chip rose 2.9%, while the benchmark and technology-heavy jumped 3.3% and 3.1% respectively.
The S&P 500 is now up 17.9% from a mid-June low, however it remains about 11% below its all-time high in January.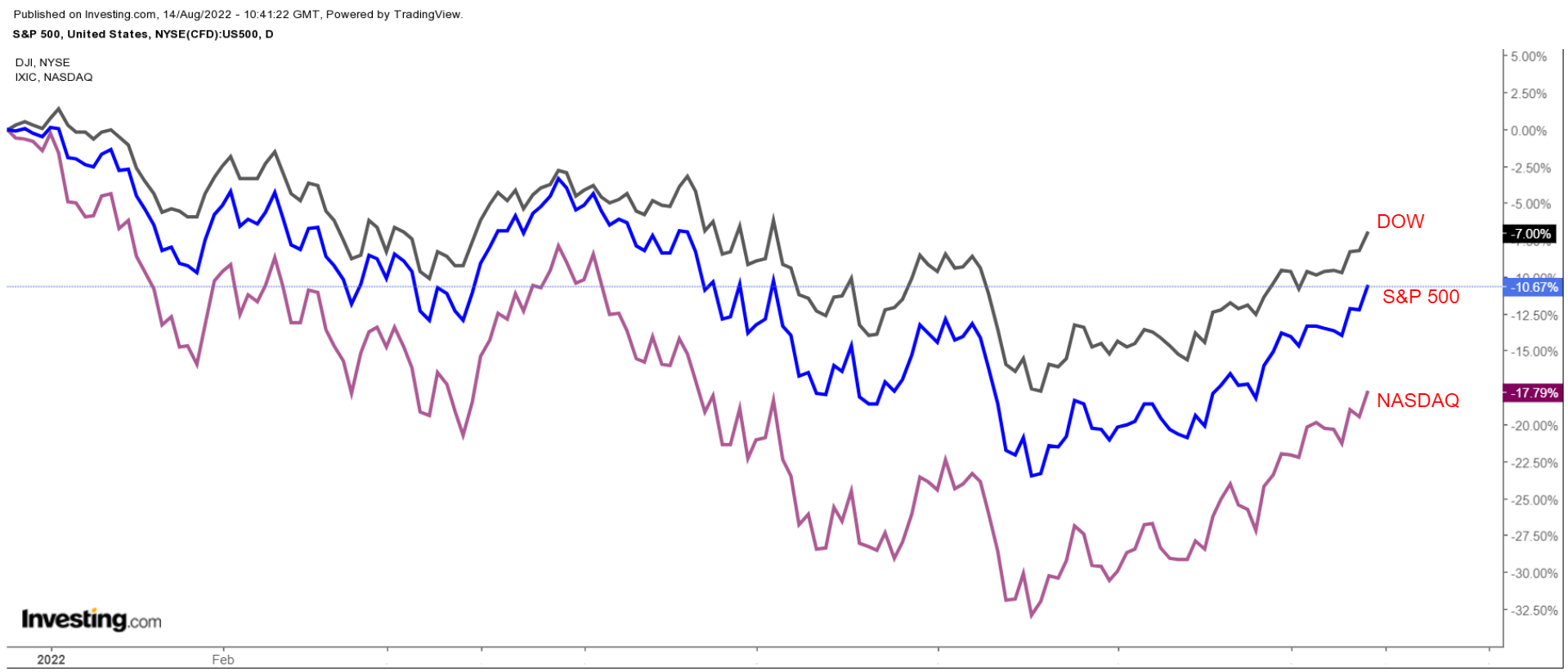 Source: Investing.com
The coming week is expected to be another busy one amid more earnings from (NYSE:), Home Depot (NYSE:), Lowe's (NYSE:), Kohl's (NYSE:), TJX (NYSE:), Cisco (NASDAQ:), Applied Materials (NASDAQ:), Deere (NYSE:), and ZIM Integrated Shipping (NYSE:).
In addition to earnings, highlights of the economic calendar are and housing data (, , , ), while the Fed is set to release the .
Regardless of which direction the market goes, below we highlight one stock likely to be in demand and another that could see further downside.
Remember, though, our time frame is just for the upcoming week.
Stock To Buy: Tesla
I expect Tesla's (NASDAQ:) shares to continue their upward trend in the coming week as investors look ahead to the electric-vehicle maker's 3-for-1 stock split, due to take effect later this month.
According to a proposal approved by Tesla's shareholders at the company's annual meeting earlier in August, each stockholder of record on Wednesday, Aug. 17, will receive a "dividend" of 2 additional shares after the close of trading on Wednesday, Aug. 24.
Tesla will then begin trading on a 3-for-1 stock-split basis on Thursday, Aug. 25, essentially making shares cheaper by one-third of what they used to be.
As a result, TSLA stock, which ended Friday's session at $900, will carry a post-stock-split price tag closer to $300.
While stock splits are typically non-events for investors and have no impact on the company's underlying fundamentals and valuation, they make shares cheaper and more accessible to retail traders and investors.
Indeed, the last time Tesla split its stock – 5-for-1 in August 2020 – shares rose an astonishing 81% from the announcement to the point at which shares began trading on their new split-adjusted basis.
Besides optimism ahead of the split, another positive catalyst supporting the EV pioneer is the Inflation Reduction Act, which the Senate passed over the weekend.
According to the new tax credit structure in the bill, Tesla's electric vehicles will become less costly for U.S. consumers, which could positively impact demand and sales.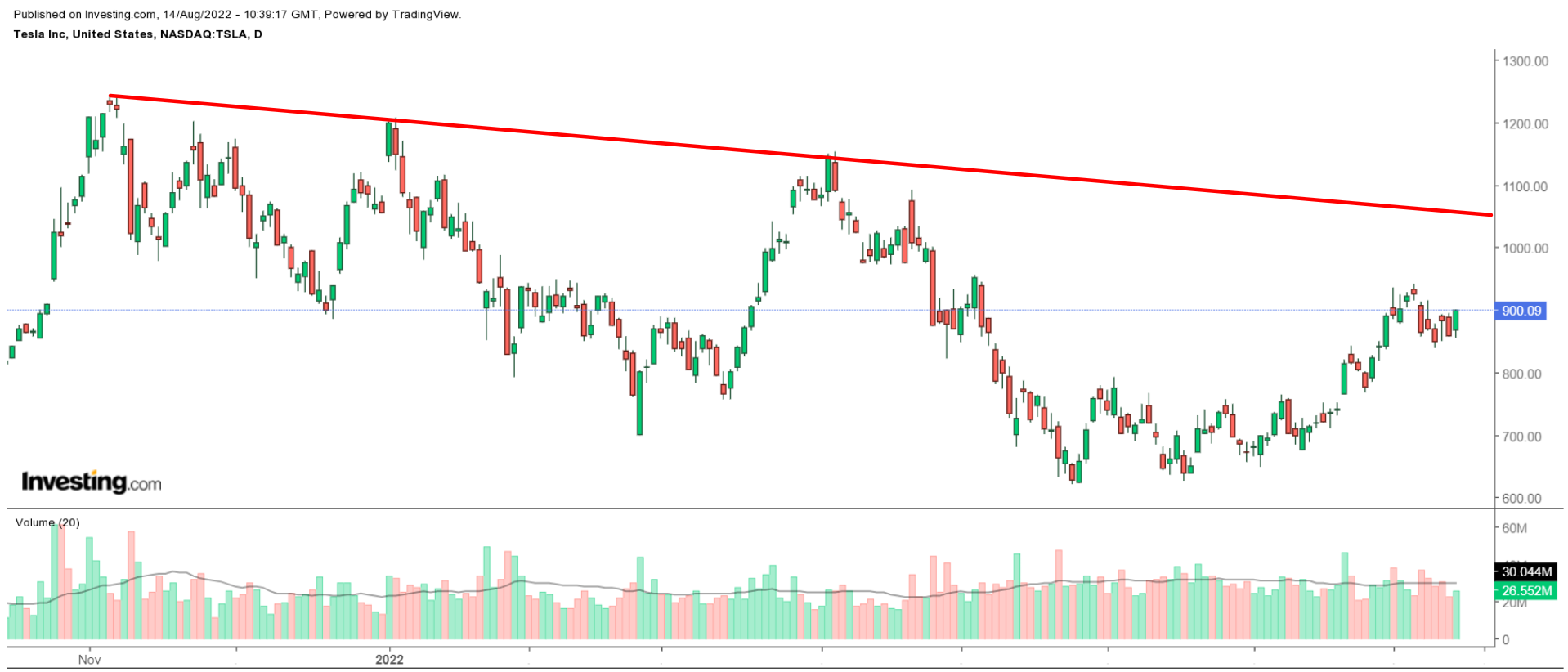 Source: Investing.com
After sliding to a low of $620.57 on May 24, Tesla shares have staged an impressive rebound, jumping 45% as of their Friday close.
Despite the comeback, Tesla shares are off by 14.7% year to date and are approximately 28% below their record peak of $1,243.49, touched in November 2021.
At current valuations, the Elon Musk-led company has a market cap of $940.1 billion, making it the world's most valuable automaker – bigger than names such as Toyota (NYSE:), Volkswagen AG (ETR:), Daimler (OTC:), General Motors (NYSE:), Ford (NYSE:), and Honda (NYSE:).
Stock To Dump: Target
I anticipate Target's (NYSE:) stock to suffer a difficult week as the retail heavyweight prepares to release disappointing financial results that are likely to reveal a sharp slowdown in both profit and revenue growth.
Consensus expectations call for the big-box retailer to post earnings per share of $0.71 when it reports second-quarter numbers ahead of the opening bell on Wednesday, Aug. 17, sinking 80.5% from EPS of $3.64 in the year-earlier period.
If confirmed, Target's quarterly profit would mark its lowest since Q1 2020, indicating the negative impact of rising operating expenses and higher freight and transportation costs on its business.
Meanwhile, revenue is forecast to rise 3.7% year over year to $26.1 billion amid numerous headwinds, including rising inflationary pressures, higher interest rates, concerns about a slowing economy, and lingering supply-chain issues.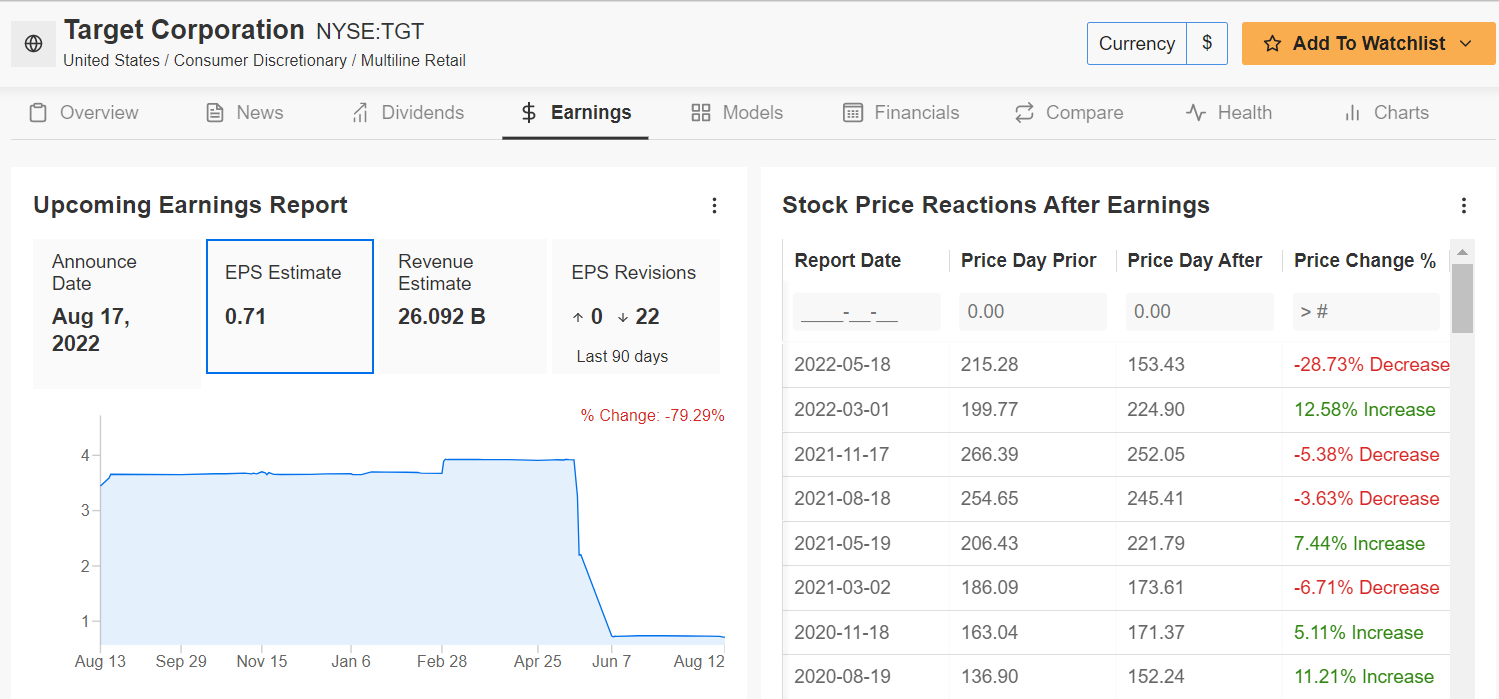 Source: InvestingPro+
Perhaps of greater importance, Target's guidance for the rest of the year will be in focus as the retailer faces a challenging macroeconomic environment that is seeing Americans cutting back spending on discretionary items amid shrinking disposable income.
Despite already warning on its profit outlook in June, I think it is possible Target's management further slashes guidance to reflect higher cost pressures and decreasing operating margins as it cuts prices in an ongoing effort to clear unsold inventory from its shelves.
Based on the options market, traders are pricing in a big move for TGT stock following the results, with a possible implied move of about 9% in either direction.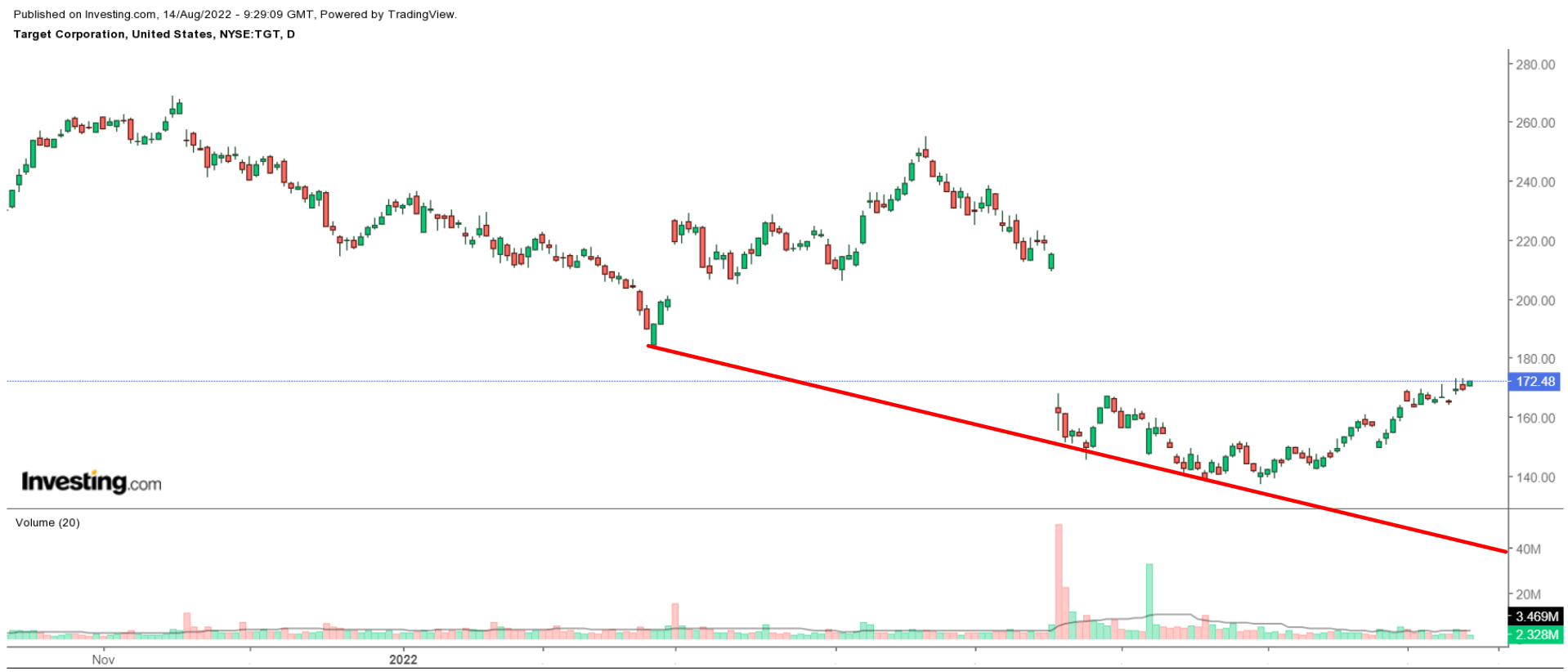 Source: Investing.com
TGT ended Friday's session at $172.48, giving the Minneapolis-based retailer a valuation of $80 billion.
Shares, which have bounced off their recent lows along with the major stock indexes, are down 25.5% year to date and are approximately 36% below their all-time high of $268.98, which was reached in November 2021.
Disclaimer: At the time of writing, Jesse owned shares of Tesla. The views discussed in this article are solely the opinion of the author and should not be taken as investment advice.
***
The current market makes it harder than ever to make the right decisions. Think about the challenges:
Inflation

Geopolitical turmoil

Disruptive technologies

Interest rate hikes
To handle them, you need good data, effective tools to sort through the data, and insights into what it all means. You need to take emotion out of investing and focus on the fundamentals.
For that, there's InvestingPro+, with all the professional data and tools you need to make better investing decisions. Learn More »