We are facing a great number of headwinds. Someone we follow had a commentary that said "wake me up after September." I will cover some of the upcoming challenges we may be facing.
What Happened To The Summer Rally?
We had been enjoying a powerful and long overdue rally in the stock and bond markets from mid-July to August 22. As Mish conveyed in her recent TV appearances, we had recaptured about 50% of the decline from January through the June lows. The markets hit resistance at the 200-day moving average and had trouble sustaining the move up. Then the Hawkish Fed Governors got together in Wyoming. Below we show just how difficult a market it has been through late August. Only two sectors, and have positive year-to-date and August returns (through August 30):
In fact, this is fourth worst first 169 trading days we have ever experienced.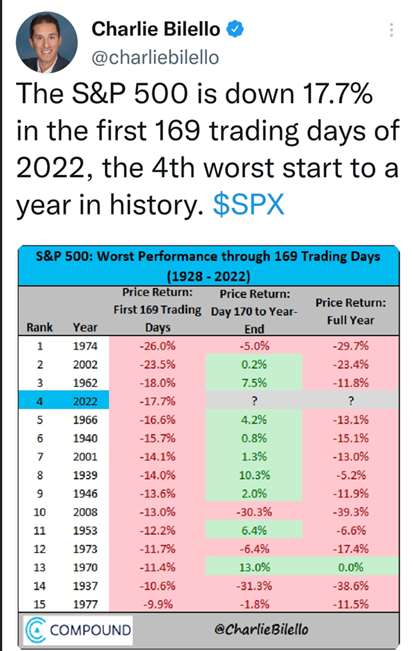 Clearly, the markets are caught in the late summer doldrums. Ever since Jerome Powell's brief, but hawkish commentary at breakfast in Jackson Hole last Friday, the markets have been on a severe downward trajectory.
Continued headwinds are testing investors resolve and may continue to look very much like a F/A 18 Super Hornet performing at the Air Show. What might we expect next?
September Can Be A Volatile Month. Caution Advised
September is typically a bumpy ride. Historically, September is the worst month to invest in the stock market.
Add in negative investor sentiment, rising interest rates, a non-accommodative Federal Reserve, mid-term elections and elevated prices of food, energy and rents, and you have a recipe for a potentially turbulent upcoming month or two. Take a look at the following charts: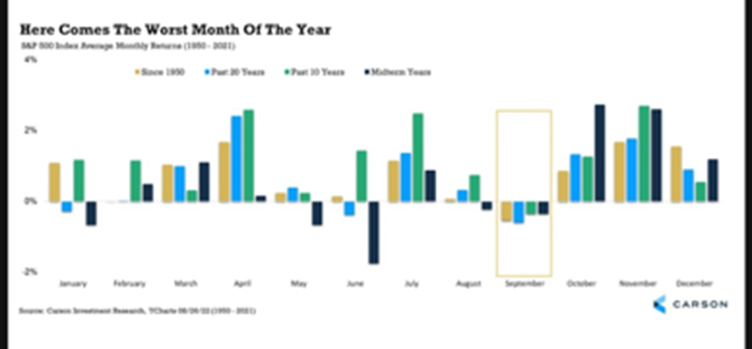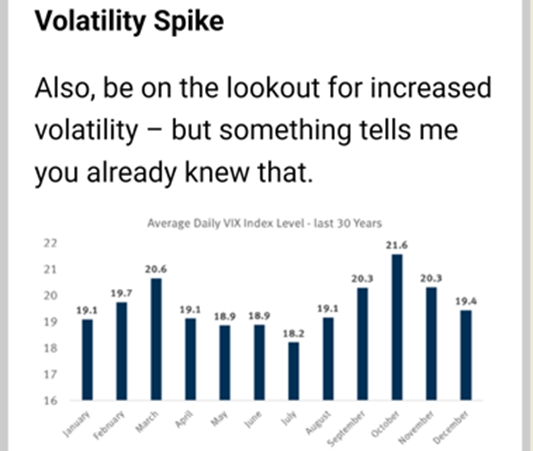 Volatility Spike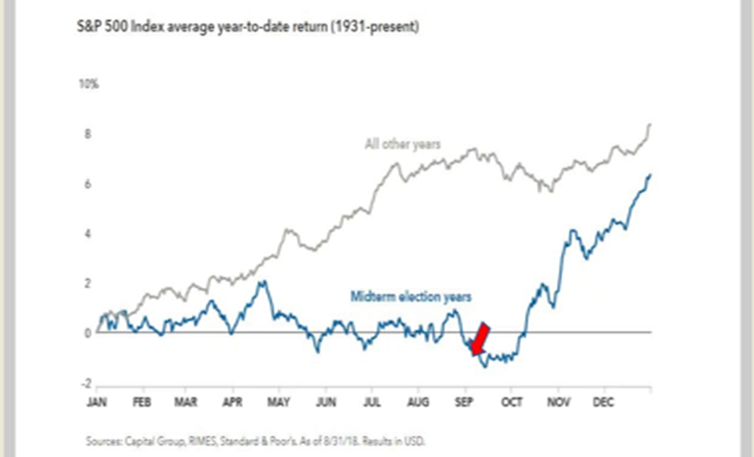 There are some bright spots that typically occur during September, but by and large historically it has not been a kind month to long-only investors. The is usually the worst performer.
21-Year September Market Performance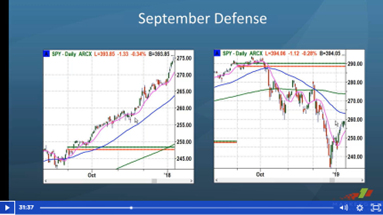 September Defense
Risk-Off
The Big View Risk Gauge (overlaid on ) has reached an extreme Bearish reading – Risk Off reading. On 8/29/22, the Risk Gauge changed from Bullish to Bearish where it has remained as of Friday's market close on 09/02/22. (-)
All 4 key US Indices are trading below key daily and weekly technical moving averages and have now confirmed trading below their respective 10-week moving averages. Falling below their 10-week moving averages is a new development confirming the indices are in bearish phases. (-)
The iShares Russell 2000 ETF (NYSE:) fell -4.70% for the week. The Invesco QQQ Trust (NASDAQ:) lost -3.99%, the SPY lost -3.22% and the SPDR Dow Jones Industrial Average ETF (NYSE:) declined -2.84% for the week. (-)
Real Motion momentum readings of the indices are not oversold, and further downside momentum is a distinct possibility. (-)
Volume analysis shows more distribution days across the board in all four indices. (-)
All sectors closed negative for the week and were led down by Semiconductors () -6.7% and Technology () -5.0. Risk off plays, like Utilities () -1.5% were down the least. (-)
Utilities continue to outperform versus the broader market (SPY). (-)
Market Internals continued to deteriorate and closed at extreme oversold levels. (-)
The SPY and the , continued to decline sharply, as indicated by the McClellan Oscillator, for a second consecutive week. Currently, the McClellan Oscillator is at the worst oversold levels of 2022. (-)
The new high new low ratios for the S&P 500 and the Nasdaq Composite continue to deteriorate and are clearly indicating risk off. (-)
The number of stocks above their respective 10-day, 50-day, and 200-day moving averages have broken down further on all Indices. The number of stocks specifically beneath their respective 10-day moving averages is an extremely low number of stocks not seen since before the mid-June rally began. This extremely low reading is on all Indices. (-)
The Yield Curve continues to be inverted, a continued recessionary indication, and the Long Bond tested recent lows set in mid-June. (-)
Value stocks () are outperforming Growth stocks () on a short and long-term basis, confirming risk-off. (-)
Every member of Mish's Modern Family has crossed and closed beneath its 50-day moving indicating a bear phase. (-)
The strongest performers are IBB, IYT, and KRE although they are in bearish phases. If the three Modern Family members, Biotechnology (IBB), Transportation (IYT), and Regional Banking (KRE) can regain their 50-day moving averages, this would indicate a recovery is underway from this recent selloff. (-)
Agriculture (DBA) continues to hold up and outperform the S&P 500 on a short and long-term basis. This indicates risk-off. (-)
Both Gold ()) and Oil () are now outperforming US equities daily according to Triple Play. (-)
The US Dollar () has continued new highs this week indicating a risk-off environment. (-)
Gold (GLD) tested its 200-week moving average and bounced back. It is outperforming the S&P 500 on a short-term basis. (-)
Neutral
Oil (USO) sold off this week, testing its 200-day moving average while still holding on to it. Real Motion is showing downward momentum but still within the Bollinger band. The 70 USD price level is critical to watch, and a breakdown under this level could be pivotal. It is at a huge inflection point as its 50-week and 200-week moving averages are close to converging. (=)
India () was the one single country ETF ending the week up 0.92%. (=)